sponsored by:
Camden RV Park
Successful Communities
Yard of the Week Example Communities
I have a book that says, among other things, that "people tell one thing yet the real message is in their feet! What they do is what they think!"
We are now in our fifteenth year in Haskell Heights, north of Columbia, South Carolina. It was headlined in The State Newspaper in 1996 as totally dismal! The same area was written up again in 1997 on the front page of The State as having captured its control. New houses have been built and financed privately (regular bank loans) and some forty plus "crack houses" have been demolished, construction trash in vacant lots removed, commercial tire dumps removed, and now there are flowers and plenty of smiles. (Yes, there are many onsite witnesses!)
We are in our fourteenth year in Arthurtown/Little Camden, south of Columbia, South Carolina. Here, on the same street where I was warned by the Sheriff's deputy not to go, there are now manicured yards and two brand new double-wide mobile homes with more mobile homes entering the community and financed with private money sources. There is a big Habitat for Humanity effort in Arthurtown, yet we are not connected other than the owners of these houses jump to get into the contest.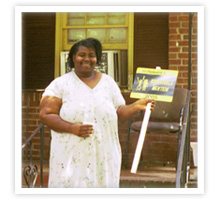 Hollywood Hills, the "roughest of them all" according to the Sheriff at the time, has new people moving in, and many, many more participants than when we began. Now in our thirteenth year, we are seeing more and more people with a hose attached to their house, a new pile of trash here and there, and slowly, the yards are turning greener as the years go by…Section 8 Rental Housing (HUD subsidy) hurts for these people do not take care of their houses for the most part, and it reflects on the hard work of the others.
There have been three contests in Florence, South Carolina. Look at Central United Methodist Church in Florence to see the pictures of their contest.
In Winston-Salem, North Carolina, there was one contest for three years. About 400 houses in the south portion of Winston Salem, this contest has been awarded merit awards by the City of Winston-Salem.
Also, years ago, we had two contests going on in Spartanburg in the areas of Nothwoods and UNA for three years.
The yards you will see in these neighborhoods tell the true picture of what the people think! Why? Why not?